The Agile Project Vision For Product Owners
The product vision is defined during the Project Vision Meeting with the stakeholders, Program Scrum Master, Program Product Owner, and Chief Product Owner. During the Project Vision Meeting collaboration with the stakeholders ensures their buy-in for the project and promotes the delivery of greater value.
Creating a business case
In whatever project management approach, creating a business case is an essential step. A business case is a document that provides justification for a project to be undertaken. It can take up several forms – Return on Investment, strategy, and research, to name a few. Whatever format you choose, your business case should have the following contents:
1. Reasons – Why the project is considered, and what problem or situation that initially led the project to happen.
2. Options – Possibilities in response to Reasons, their anticipated results, and the selected option (i.e. the project).
3. Benefits – Expected value to be delivered, associated negatives that could happen and how the project can minimize them.
4. Timescale and Costs – Timeline and associated costs, including development, operations, and maintenance.
5. Major Risks and Opportunities – Threats and opportunities for the project to anticipate.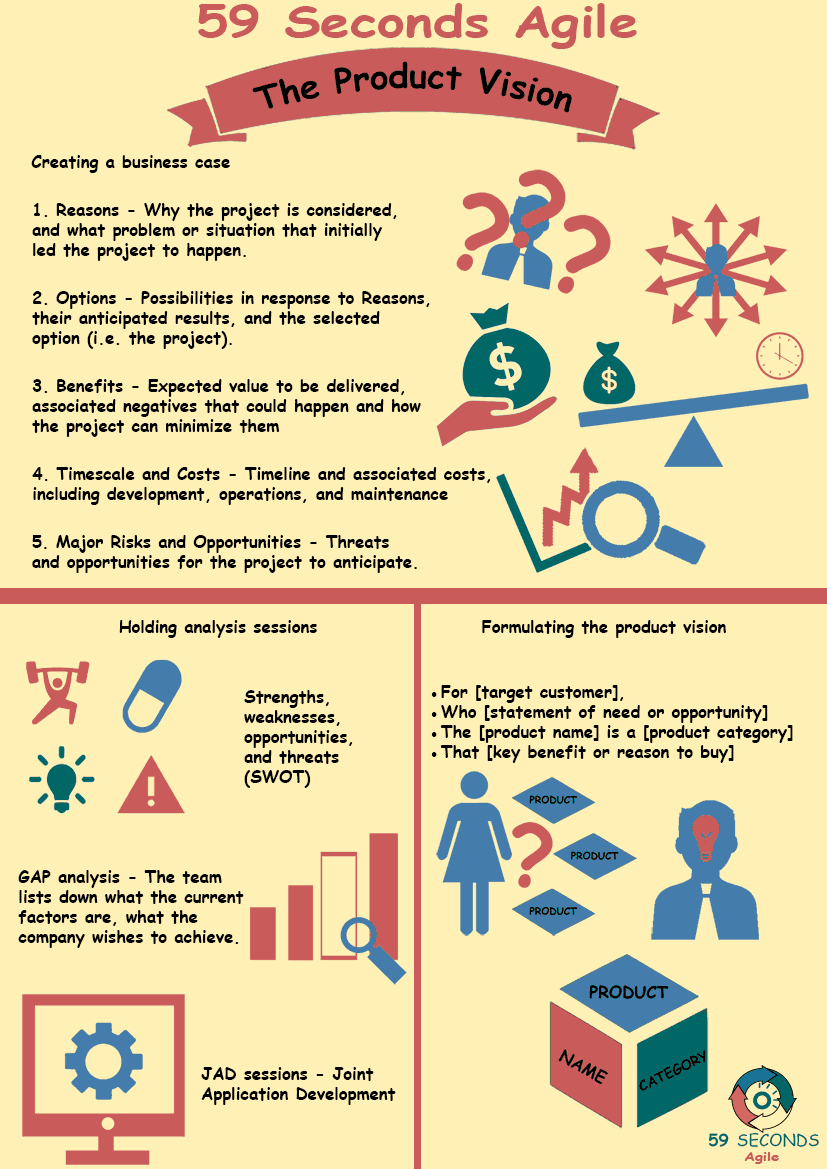 It is acceptable to modify a business case in several iterations if it brings the project closer to a clearer vision of the end goal.
Market studies, proof of concepts, and prototyping
Incorporating human-centered design practices into product development ensures that the product being developed will provide real value to customers and users by making it usable. By further understanding the target audience through market studies, empathy, and analysis, you are giving yourself and the team with the necessary information on what your customers really want and need. The correct problem to solve can be observed and taken from interviews and surveys with potential customers of the product.
The insights are taken from the research, prototyping, and testing can bring out shortcomings of a product owner's ideas and help refine the product vision into something more usable and technically feasible.
Our Favourite Agile Books
We found these books great for finding out more information on Agile Scrum:
Holding analysis sessions
Analysis sessions with the stakeholders – executives, customers, and developers alike – gather a deeper understanding of internal and external factors in developing the product vision. By being more equipped with information, the product owner and the team can get a clearer direction as to where the project should go.
For evaluating the company against competitors, Strengths, Weaknesses, Opportunities, and Threats (SWOT) analysis can be done. Doing SWOT analysis means assessing the company's advantages over competitors, areas of improvements compared to peers, market trends and opportunities to grab, and external factors that can compromise the business, respectively. This gives deeper insights on what to include in planning for the product vision and other activities in the project.
Prev <— Continue Reading —> Next