Vision Statement in Agile Projects
The Vision Statement is not technically part of the Scrum framework, however, it is widely seen as one of the responsibilities of the Product Owner. Despite its omission from the Scrum framework, the Vision Statement is useful and is also a widely adopted concept. The vision places the product goals into a central part of the development team ethos, therefore providing clarity to the direction in which the product is going. The following points describe the Vision Statement:
Internally focused and while also strategic in nature
Aimed at the requirements of the marketplace and End User needs
Reviewed on a regular basis due to changing business environments
Owned by the Product Owner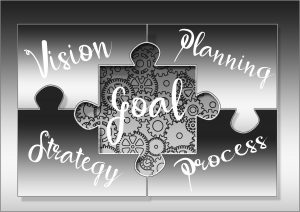 Product Vision Statement
The Vision Statement must be communicated throughout the organization or team of people who you are working with. This is because each person needs to clearly understand the end Goal of the Project, in order for the project to succeed. The the following points should be included in the Vision Statement:
The Project or Product name
Who the Project or Product is for
What the Project or Product will do
What the Project or Product will not do
When the Project or Product will be done
What the Business benefit of the Project or Product is
What the Customer benefit of the Project or Product is
The Vision Statement should be clear, focused and it should also be written for the business.

The Future Product
Firstly a good Product Vision is a short document that represents what the product will look like in the future, and how the product should function. The document then creates a shared goal for the development team to work towards and provides visibility and transparency to the product stakeholders. The product vision should answer the business questions regarding the product, such as:
* Who the target customer for the product is and additionally what the key benefits of the product will offer them?
* What opportunities are available for the product and what category does the product fall into?
* What are the unique selling points for this product and what features differentiate this product from other products?
Our Favourite Agile Books