Forming The Scrum Team For Product Owners
Product owners are often the starting-point of scrum team projects. A product owner may have a specific idea or general vision for what should be accomplished and is responsible or selecting specialists in relevant fields to form a development team. The relevant roles and their impacts on the product owner will be discussed in the following section; followed by cross-functional requirements of a scrum team, things to consider when forming a team, and Bruce W. Tuckman's (1965) four stages of group formation. This article aims to outline the role of product owners in forming scrum teams.
Roles and their Impacts on Product Owner
Three roles that are important when forming a Scrum Team include the product owner, scrum master, and development team. First, the product owner is responsible for communicating a vision and focuses on the big picture, or product success, by assessing whether final results meet goals and user needs.
Secondly, the Scrum Master provides essential support to the Product Owner through facilitating and encouraging communication and collaboration (backlogs) among all stakeholders. The Scrum Master acts as a bridge between diverse stakeholders to eliminate distractions, issues, and obstacles surrounding the Scrum Team. For example, the Scrum Master may facilitate understanding and functionality of scrum among necessary stakeholders (HR, external departments, etc).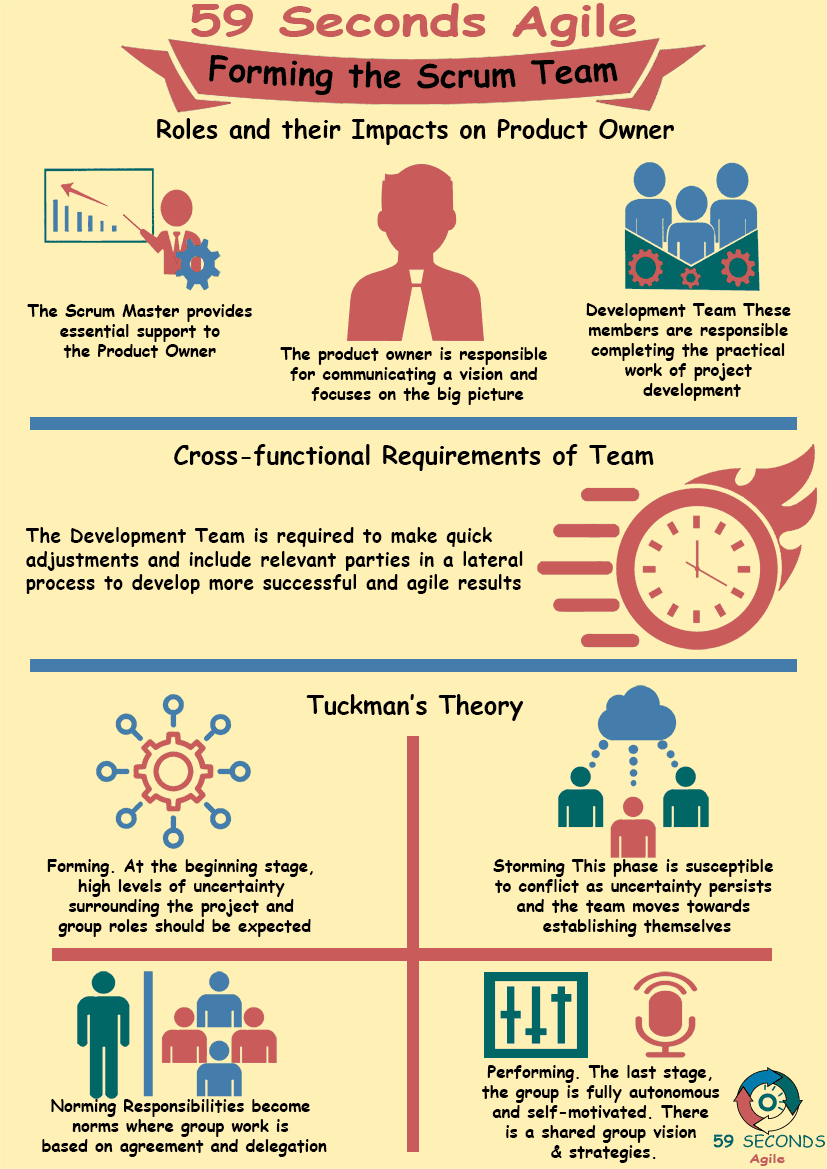 Finally, the majority of a Scrum Team consists of a Development Team. This includes group members from mixed backgrounds, specialties, and roles. These members are responsible for self-organizing project tasks, goals, and completing the practical work of project development. The backgrounds of the development team may consist of but are not limited to, researchers, programmers, engineers, marketing specialists, and designers.
In sum, the Scrum Master focuses on process success so that the Product Owner can focus on product success. The Development Team is responsible for self-assigning and completing the specific tasks and practical actions necessary to meet project goals. Each of these roles and the relationships between them are essential to a Scrum Team and Product Owner's success.
Cross-functional Requirements of Team
The Development Team is required to make quick adjustments and includes relevant parties in a lateral process to develop more successful and agile results. In acting as a member of a cross-functional team, traditional hierarchical functions are eliminated and decision-making becomes a process employed by those on the 'ground'. Many studies explain the benefits of combining diverse experts to efficiently reach decisions, transfer knowledge, and develop concepts. To be successful, it is necessary for the team to clearly understand the goals, scope, and objectives of the project. Each team member is responsible for his/her understanding and contribution to the process.
Our Favourite Agile Books
We found these books great for finding out more information on Agile Scrum:
Considerations and things to Address when forming Team
Forming Team. When forming a cross-functional or scrum team, the possible roles and specialties necessary for understanding and creating a product must be considered. It is also beneficial to select members with complementary skills. One strategy for effectively doing so is to develop a "team-member profile and time commitment estimate and work with the functional department managers to identify suitable members" for the scrum team.
Maintaining Team. Communication is an important element of effective team formation, functionality, and effectiveness. Therefore, it will be useful to set up clear communication systems for both internal and external stakeholders. Scrum provides rituals and structures for maintaining and facilitating this. Additionally, team member autonomy and decision-making abilities are important for task completion. Finally, it is important to manage expectations within a team, so that trust is maintained and communication remains open.
Team Issues. Overlapping issues can arise within cross-functional teamwork, such as 'turf issues,' membership status, and issues with the chain of command. These issues stem from differences in department workflow, backgrounds, or personal work styles. It is important to address these issues immediately through clearly identifying expectations and organizing daily stand-up meetings. To understand how the product owner can effectively approach these issues, Tuckman's theory of group formation will be discussed below.
Prev <— Continue Reading —> Next