Why use Agile as a Scrum Master?
Why use Agile? With the speed of change in trends and demands, digital transformation and business agility have become necessities for every company to stay competitive. Whether you're building an app or innovating a process, the cornerstone of developing the product is the project management approach. It needs to solve the right problem with the right solution for the right people at the right time at the right cost. Therefore, it is crucial to know the reasons behind choosing a project management framework, and how to go about it.
Agile vs Waterfall
Waterfall is the more traditional way of doing things and proceeds in a linear fashion from start to finish. It tends to be more rigid Agile and requires all the goals and requirements to be defined before development starts. Changes can be costly and can set development back.

In waterfall, there are generally eight stages of development and each stage is completed in a sequential order. One stage must be completed before the next step is can be undertaken. If a step has been completed and a change is needed, the team can't go back to the previous step. Traditionally, project management roles are the ones who help control and command the development.

Agile, on the other hand, offers more flexibility and welcomes changing requirements. It allows for changes to be made during development and emphasizes rapid delivery of quality products. Planning the project out doesn't happen all at the beginning like waterfall. Instead, it focuses on planning just enough work for each development iteration.

Agile allows for a company to react to changing customer needs and wants in an effective, efficient way. It allows for change when it is needed throughout development and allows for inspection, reflection, refinement, and improvement as time goes on. When employing a Scrum framework, Scrum Masters are responsible for ensuring that the Scrum Framework and principles are correctly followed and they ensure that the team is working together effectively by removing conflicts and impediments.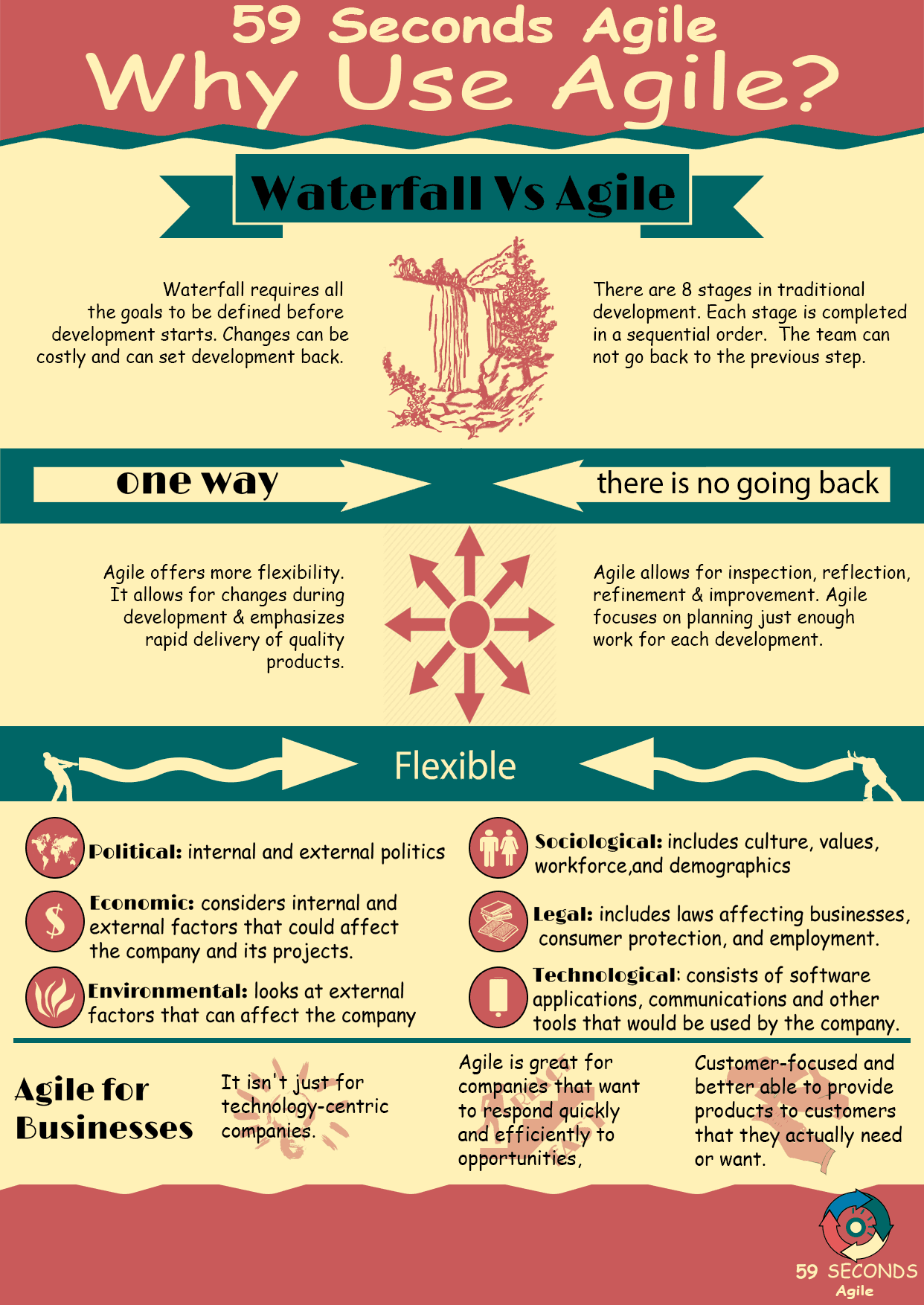 PESTLE Analysis
When determining if a move to Agile is right, a PESTLE can be used to simplify what factors should be considered.
Political: both internal and external politics should be looked at. External factors include government policies that could affect the company but can also include trade restrictions, trade reforms, and other regulations.
Internal politics is important when determining if the company should switch over to agile from another project management approach. Since agile requires a certain level of trust and openness between members of the team and within the working environment. Scrum Masters should look at the team to determine if they would fit with agile values and principles. How the team works together, team trust and project cohesiveness are all things Scrum Masters should consider before determining if moving to agile is right.
Economic: considers internal factors related to the project viability and external factors that could affect the company and its projects. External factors such as stock markets, company size, and interest rates can all affect whether a company can benefit from moving to Agile. Scrum Masters should look at these factors to ensure that making a move to Agile is beneficial for the team.

Sociological: includes culture, values, workforce, and demographics. Agile works best with motivated employees who work well on their own without a lot of micromanaging. Scrum Masters should consider the culture and values of the company as well as the workforce and demographics before determining to what extent the company should use Agile. Team dynamics plays a key role here and Scrum Masters should consider them all to ensure they match agile values and principles well.
Prev <— Continue Reading —> Next