This articles looks to discuss the Kanban Framework and the Agile Frameworks. Starting with a discussion on Kanban, the article moves on to cover the Lean Agile Framework.
The Agile
Fundamentals
A 59 Seconds Agile Video Animation
Kanban Framework and the Agile Frameworks – Part 3
A 59 Seconds Agile Article
The Kanban Framework
Kanban, which simply means "visual card" in Japanese, is a scheduling and management framework created by a Toyota engineer. As it facilitates production and inventory control using a pull system, it is one of the most popular Agile frameworks where teams finish just-in-time (JIT) production.
Kanban Framework Roles
Kanban has no prescribed set of roles and does not operate in fixed time boxes. It does, however, operate on cadences and has the following principles:
Visualize the workflow – Labelling work items and placing them in swim-lanes will simplify communication and give the right information to the team.

Limit the amount of work-in-progress (WIP) – Putting a limit to WIP lets the team avoid over-commitment, thus completing work items before they move to the next stage.

Enhance the flow – Identifying bottlenecks and improving the process is necessary to ensure a balanced flow of pulling in work.
By following these principles, teams who use Kanban are able to manage work effectively and leave no work unfinished. The one-piece-flow nature of this framework is good for projects that are already operational.

Kanban Framework and Lean
Lean, short for Lean Manufacturing, is a set of management principles developed mid-20th century that focuses on value and efficient production systems. Lean management has the following principles:
Identify value

Value stream mapping

Continuous workflow

Pull system

Continuous improvement (Kaizen)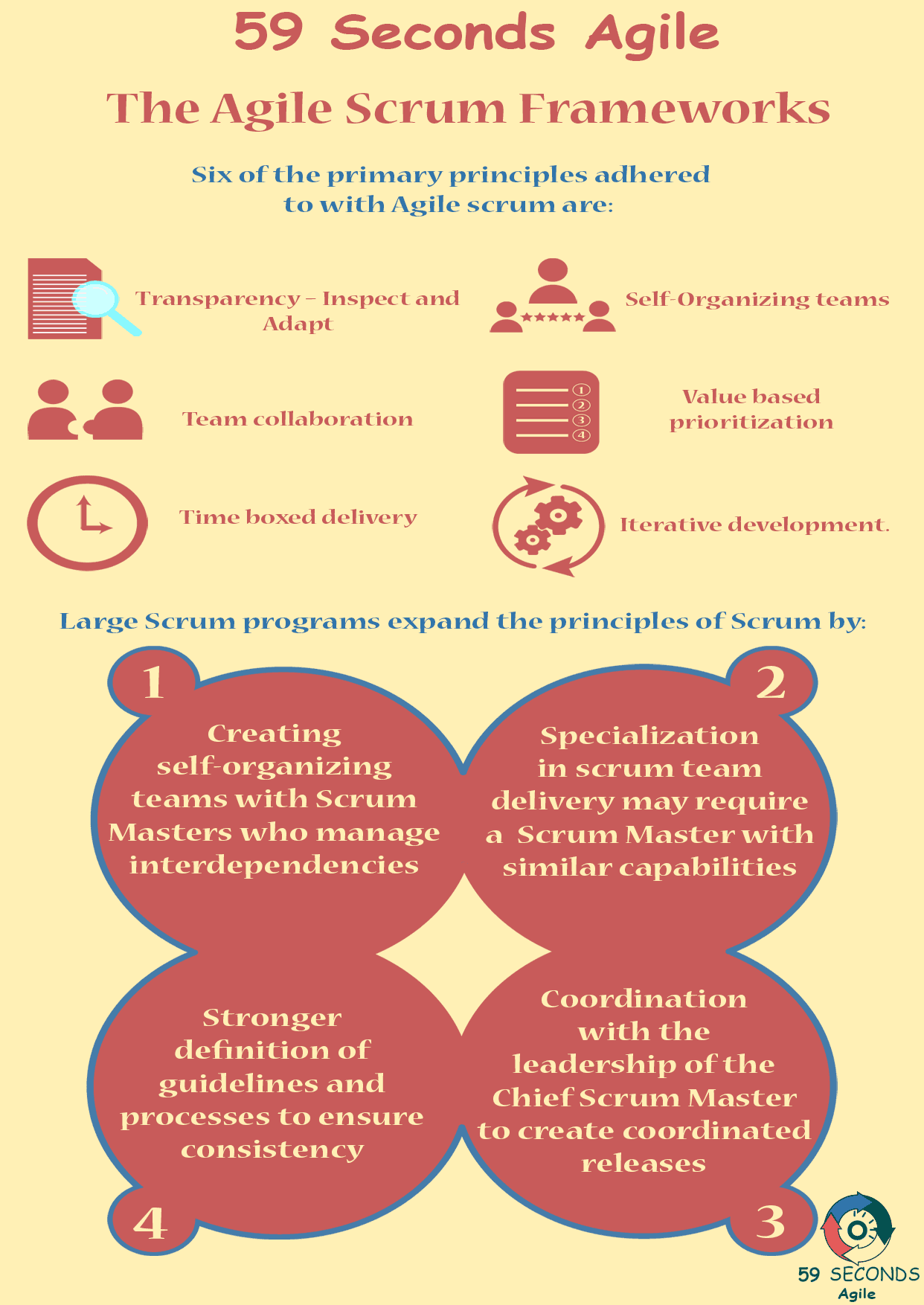 Kanban Framework and Lean Software Development
Lean Software Development, conceptualized by Mary and Tom Poppendieck, furthered these principles into the following:
Eradicate waste

Incorporate value

Generate awareness

Transport quickly

Value customers

Maximize everything
Lean aims to create products with business value for the customers, in the most efficient manner possible. It puts further importance on capacity management, waste elimination, and maximizing strategies in order to deliver value effectively. Lean recognizes the "system" – that in the development of a product, different people and processes operate as a whole.
Prev <— Continue Reading —> Next
Our Favourite Agile Books
We found these books great for finding out more information on Agile Scrum:
Prev <— Continue Reading —> Next
User Stories Applied
A 59 Seconds Agile Book Review
User Stories Applied by Mike Cohn is one of our favourite books on Agile User Stories. The book starts with an overview into user stories, and details what a user story is and the different aspects of them. He then discusses how to go about writing a user story, and provides details of the INVEST criteria that can be used to determine if the story is meeting all of its objectives. Next Mike gives an in depth discussion of who user stories are written for and where to begin when gathering the details for them. The book then discusses acceptance testing user stories, including how to go about specifying these criteria and the responsibilities of the development team and customers during this process.
Prev <— Continue Reading —> Next
Agile Fundamentals
A 59 Seconds Agile Infographic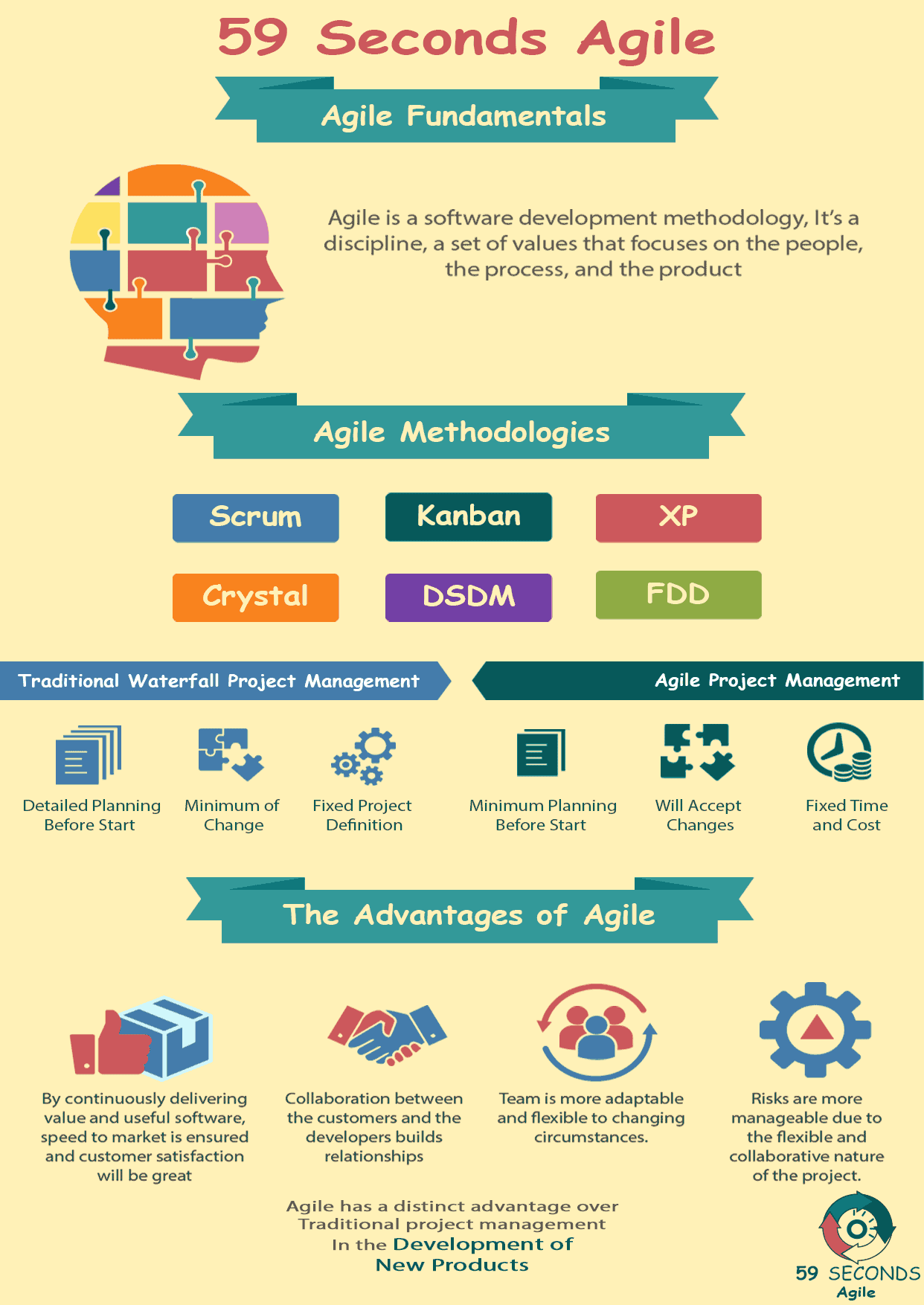 Prev <— Continue Reading —> Next