Demonstrating and Validating the Sprint for Scrum Masters – Part 2
Sprint Review
The Sprint Review is the ceremony lead by the Scrum Master and held at the end of the sprint to present the objective of the sprint, what was delivered during the sprint and review the product backlog for any changes required as a result of learnings from the sprint. The scrum master is also critical to ensure that scrum team members and stakeholders understand the scope of the review and keep it within the agreed upon time frame.
During the sprint review, the product owner will introduce the sprint and the sprint goal to be achieved. Acceptance criteria will also be reviewed for each feature by the scrum team. It is during this session that a collaborative discussion will be held to ensure that participants agree that the features and user stories delivered are Done. There may be items that do not meet the Definition of Done and as such are either moved back to the product backlog, re-evaluated or removed from the feature set. The Sprint Review is considered by many to be the primary ceremony where the value is demonstrated prior to features being introduced to the market. It is here where the concept of fail fast is first demonstrated to evaluate the readiness of an organization to introduce new features.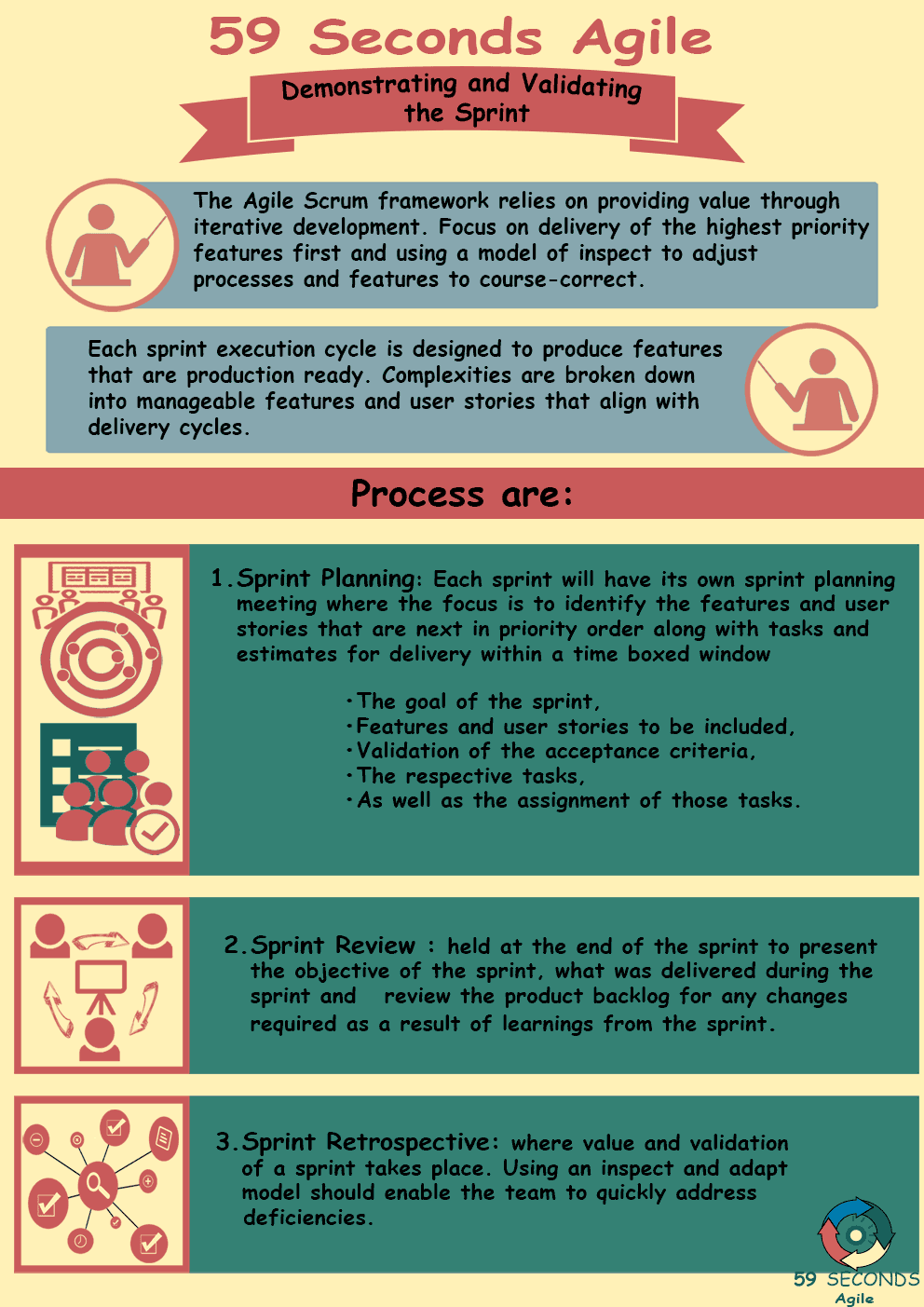 Sprint Retrospective
After the ceremonies and delivery of features are completed within a sprint, the sprint retrospective is the next area where value and validation of a sprint takes place. The Scrum Master facilitates the retrospective by guiding team members in a collaborative review of the processes, artifacts, and outcome of a sprint. Team members are encouraged to identify what worked well and what may require improvement. It is during this sprint that skill deficiencies should be presented that are either required and not earlier identified or that may have held a scrum team back from delivering maximum value in the sprint. Not having these skills may have created a situation where a user story could not be delivered as expected or that it took longer to deliver feature set items.
Our Favourite Agile Books
We found these books great for finding out more information on Agile Scrum:
Sprint Retrospective
The Scrum Master is the facilitator in adjusting processes and engaging the right team members to remove roadblocks based on feedback from the sprint retrospective. Using an inspect and adapt model should enable the team to quickly address deficiencies and celebrate major accomplishments.
The Scrum Master is an important team member who facilitates team tasks in validating the delivery of features in a sprint. Sprint planning, review, and retrospectives are key ceremonies that support this validating and the value delivered in product development. The sprint backlog, features that meet the Definition of Done and retrospective feedback will measure the success of the sprint goal established by the product owner.
Prev <— Continue Reading —> Next