Agile Scrum Project Roles
A 59 Seconds Agile Training Video
Continue to Part 10 Below
Introduction to the Scrum Project Roles
A 59 Seconds Agile Article
This article provides an 'Introduction into the Scrum Project Roles' and looks to discuss the different roles that are involved in an Agile Scrum Project.
Development Team
The Development Team refers to the collection of individuals who work together to deliver the product increments. It is composed of six to nine members, which is large enough to be composed of different skill sets, and small enough to easily collaborate. As such, the team is cross functional.
Everyone on the project works together, helps each other, and shares a deep sense of camaraderie. Unlike traditional development teams, there are not distinct roles like programmer, designer, or tester. Everyone completes the work together.
The Development Team owns the plan for each sprint; they anticipate how much work they can complete in each iteration. They are autonomous and make decisions independently without interference from either the product owner or scrum master.
Unlike a traditional project where the project team's organization is managed, centralized and leadership style is autocratic and requirements are already fixed in the project plan.
The development team is self-organized, which allows the individuals who are actually doing the work to estimate and take ownership of their tasks.
Agile Scrum Project Roles
A 59 Seconds Agile Video Animation
User Stories Applied
A 59 Seconds Agile Book Review
User Stories Applied by Mike Cohn is one of our favourite books on Agile User Stories. The book starts with an overview into user stories, and details what a user story is and the different aspects of them. He then discusses how to go about writing a user story, and provides details of the INVEST criteria that can be used to determine if the story is meeting all of its objectives. Next Mike gives an in depth discussion of who user stories are written for and where to begin when gathering the details for them. The book then discusses acceptance testing user stories, including how to go about specifying these criteria and the responsibilities of the development team and customers during this process.
The Agile Scrum Roles
A 59 Seconds Agile Infographic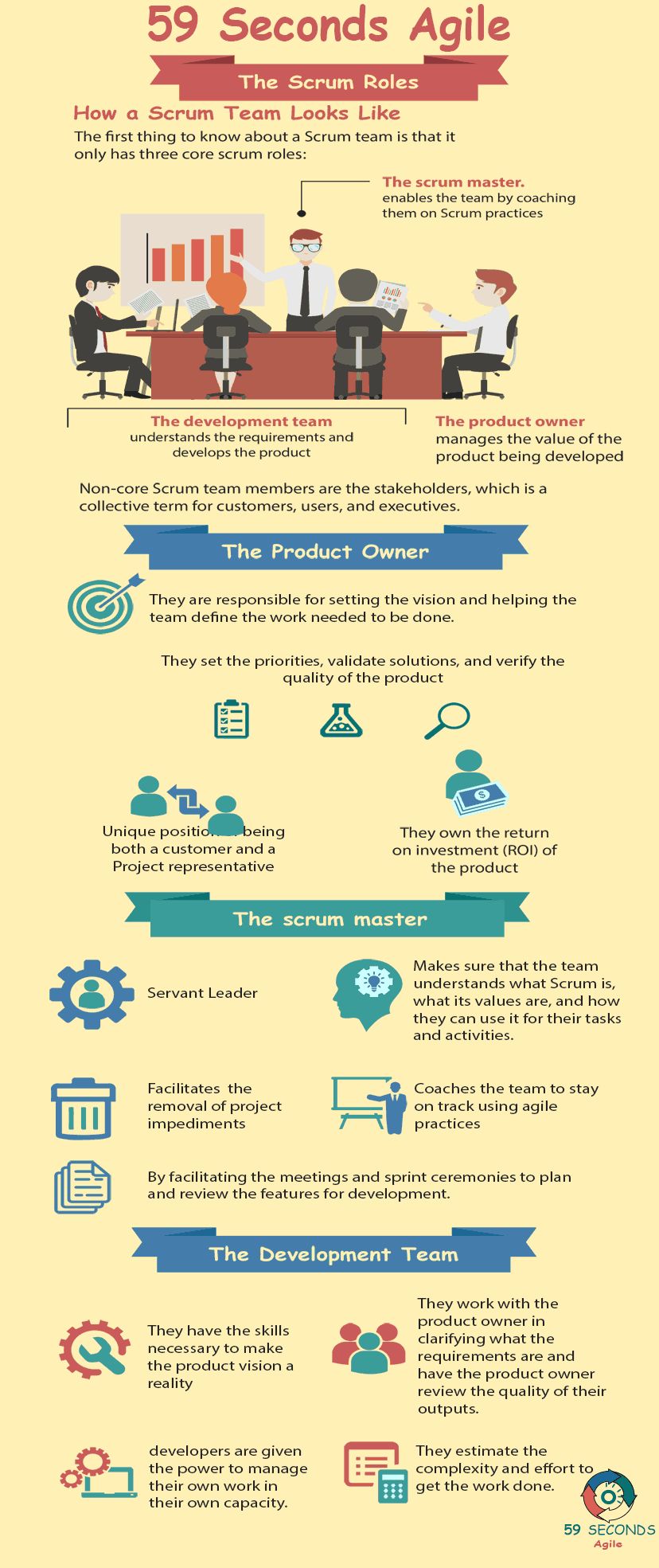 Our Favourite Agile Books
We found these books great for finding out more information on Agile Scrum: