Agile Sprint Backlog
A 59 Seconds Agile Training Video
Continue to Part 3 Below
The Agile Sprint Backlog
A 59 Seconds Agile Article
This article provides an 'Introduction in to 'The Agile Sprint Backlog' and looks to discuss the metrics used for measuring project progress.
Problems in Managing the Sprint
One of the most common problems in a Sprint is Stretched goals. The development team decides on how much work it can do in a Sprint. No one should bring pressure on the team to over-commit or under-perform. This simply builds resentment, distrust and encourages low-quality work.
It is up to the team members to set realistic goals. Another problem in a sprint is incomplete work. It is not uncommon for a team to have incomplete work at the end of a sprint. Unfinished work is an important issue to identify, as it signals a potential problem with one or more aspects of the team. When an iteration is planned, the team sets an expectation with the customer.
When those expectations are not met, the customer could lose faith in the team's ability to deliver, which introduces conditions that make success less achievable. Unfinished work should always be analyzed by the team during every sprint retrospective. This is where the team can better understand why the work was not completed, and is likewise an opportunity to chart a better course going forward.
The Agile Sprint Backlog
A 59 Seconds Agile Video Animation
User Stories Applied
A 59 Seconds Agile Book Review
User Stories Applied by Mike Cohn is one of our favourite books on Agile User Stories. The book starts with an overview into user stories, and details what a user story is and the different aspects of them. He then discusses how to go about writing a user story, and provides details of the INVEST criteria that can be used to determine if the story is meeting all of its objectives. Next Mike gives an in depth discussion of who user stories are written for and where to begin when gathering the details for them. The book then discusses acceptance testing user stories, including how to go about specifying these criteria and the responsibilities of the development team and customers during this process.
Creating the Sprint Backlog
A 59 Seconds Agile Infographic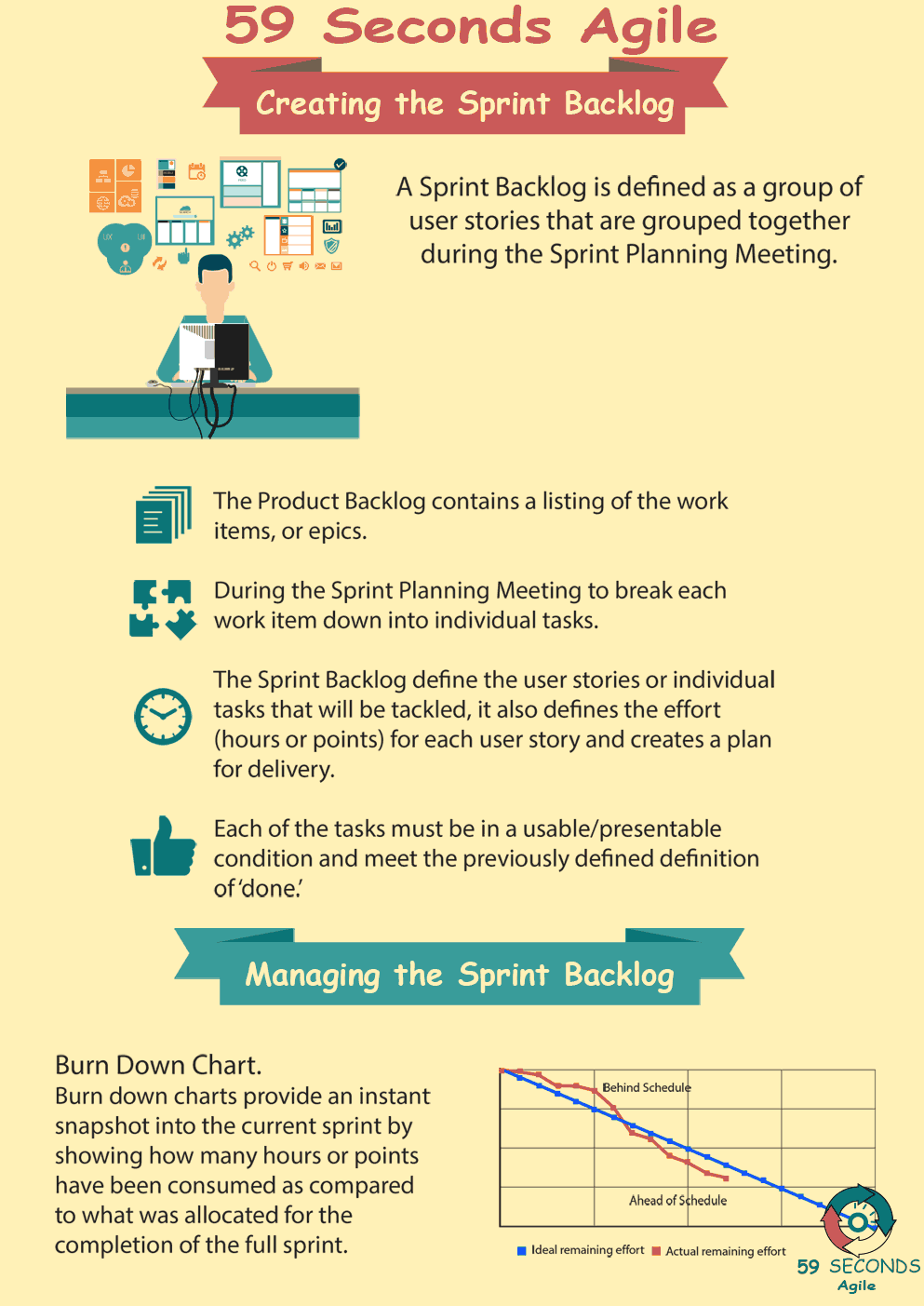 Our Favourite Agile Books
We found these books great for finding out more information on Agile Scrum: