Agile Sprint Backlog
A 59 Seconds Agile Training Video
Continue to Part 6 Below
The Agile Sprint Backlog
A 59 Seconds Agile Article
This article provides an 'Introduction in to 'The Agile Sprint Backlog' and looks to discuss the metrics used for measuring project progress.
Tools in Creating a Sprint Backlog
Like any other part of the product development process, there are certain tools available that help facilitate creating the sprint backlog. One of the most valuable of these tools is the sprint planning meeting. This meeting is held once per sprint, at the end of one sprint, in preparation for the next one. During the sprint planning meeting, the Scrum team examines the product backlog and determines which stories they believe they can finish within a sprint.
The sprint planning meeting is most effective when teams balance priority and story points for the stories in the product backlog. Something of a higher priority should be committed to the sprint earlier than lower priority stories.
The scrum team must also account for story points, and ensure that the stories they commit to, do not amount to more story points than their expected velocity. As a visual aid during the sprint planning meeting, many teams use some sort of physical or digital board.
While developers commit to tasks for writing code, testers can see when the coding tasks should be complete, and have an understanding of when their testing tasks can begin. The most simple tools can be a whiteboard and sticky notes. More advanced software options allow teams to work together in the same digital space to plan the sprint.
In addition to task planning tools, other software tools allow teams to track velocity and other metrics during the sprint. With more accurate velocity estimates, teams have a better idea of what their story point capacity is. A better knowledge of their capacity then allows teams to take on exactly how many stories they should be able to finish.
The Agile Sprint Backlog
A 59 Seconds Agile Video Animation
User Stories Applied
A 59 Seconds Agile Book Review
User Stories Applied by Mike Cohn is one of our favourite books on Agile User Stories. The book starts with an overview into user stories, and details what a user story is and the different aspects of them. He then discusses how to go about writing a user story, and provides details of the INVEST criteria that can be used to determine if the story is meeting all of its objectives. Next Mike gives an in depth discussion of who user stories are written for and where to begin when gathering the details for them. The book then discusses acceptance testing user stories, including how to go about specifying these criteria and the responsibilities of the development team and customers during this process.
Creating the Sprint Backlog
A 59 Seconds Agile Infographic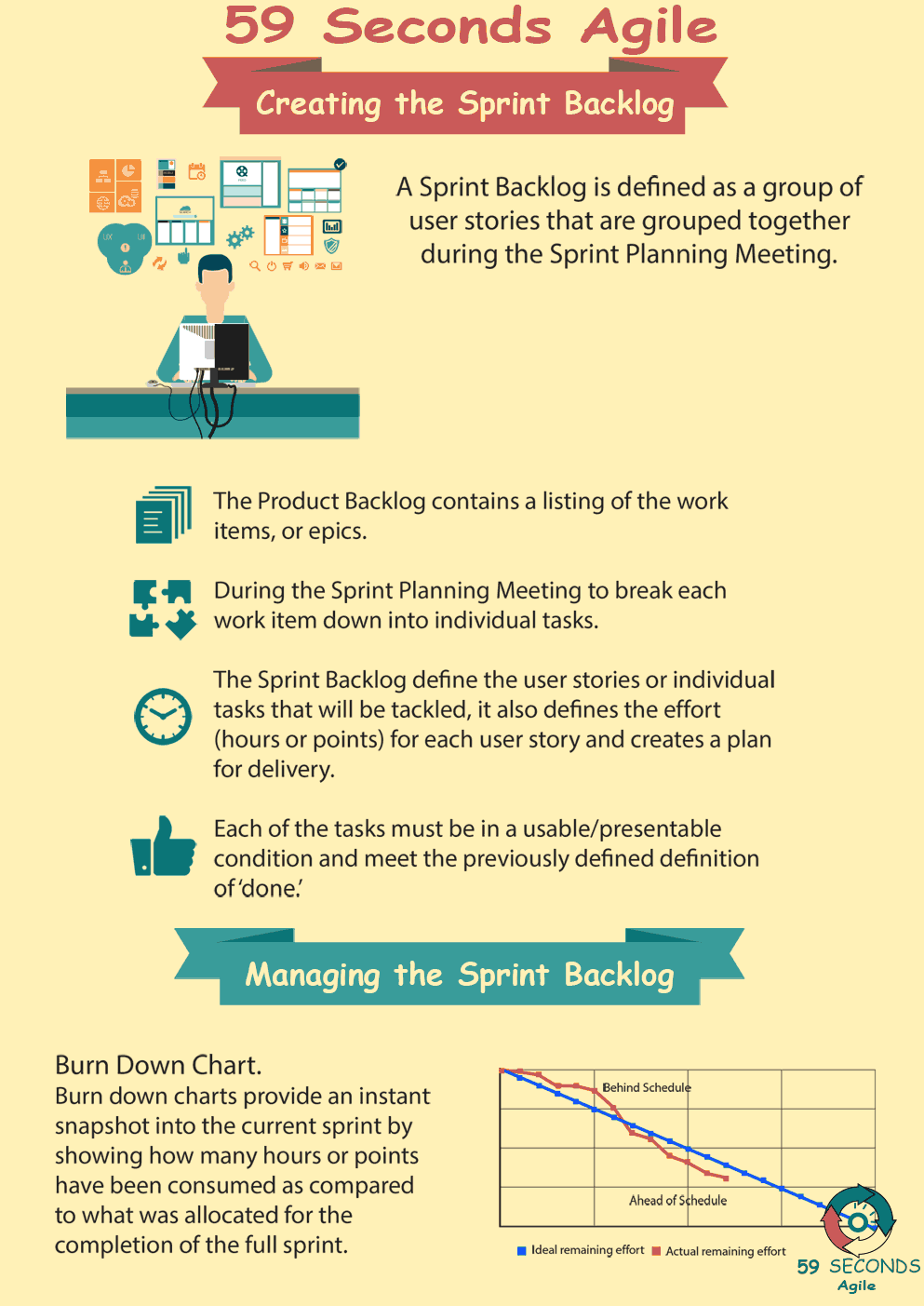 Our Favourite Agile Books
We found these books great for finding out more information on Agile Scrum: