Using the Agile Manifesto to Deliver Change
A 59 Seconds Agile Training Video
Continue to Part 4 Below
The Agile Manifesto
A 59 Seconds Agile Article
This article provides an 'Introduction to the Agile Manifesto' and looks to discuss what a values are stated within the Manifesto.
The Four Values
The four values are itemised as follows:
One, Individuals and Interactions over Processes and Tools
Two, Working Software over Comprehensive Documentation
Three, Customer Collaboration over Contract Negotiation
Four, Responding to Change over Following a Plan
The group who tabled these four values included IT luminaries such as Ken Schwaber and Alastair Cockburn, and they continued to develop according to these agile values.
What they did state about the values was:
"That is, while there is value in the items on the right, we value the items on the left more".
This does not mean that the lesser category should be ignored, just that its less important. No precise metric was applied to these values; but we suggest a ratio of 60:40. The reasoning behind this is that 50:50 gives equal importance to the 2 categories. While, 80:20 or Pareto would indicate that the category that has a weight of 20 can be ignored. A ratio of 60:40 or even 70:30 acknowledges that the less important category is still relevant.
The items on the right-hand side, which are about governance and compliance, still need to feature in any successful project.
The Agile Manifesto
A 59 Seconds Agile Video Animation
User Stories Applied
A 59 Seconds Agile Book Review
User Stories Applied by Mike Cohn is one of our favourite books on Agile User Stories. The book starts with an overview into user stories, and details what a user story is and the different aspects of them. He then discusses how to go about writing a user story, and provides details of the INVEST criteria that can be used to determine if the story is meeting all of its objectives. Next Mike gives an in depth discussion of who user stories are written for and where to begin when gathering the details for them. The book then discusses acceptance testing user stories, including how to go about specifying these criteria and the responsibilities of the development team and customers during this process.
The Agile Manifesto
A 59 Seconds Agile Infographic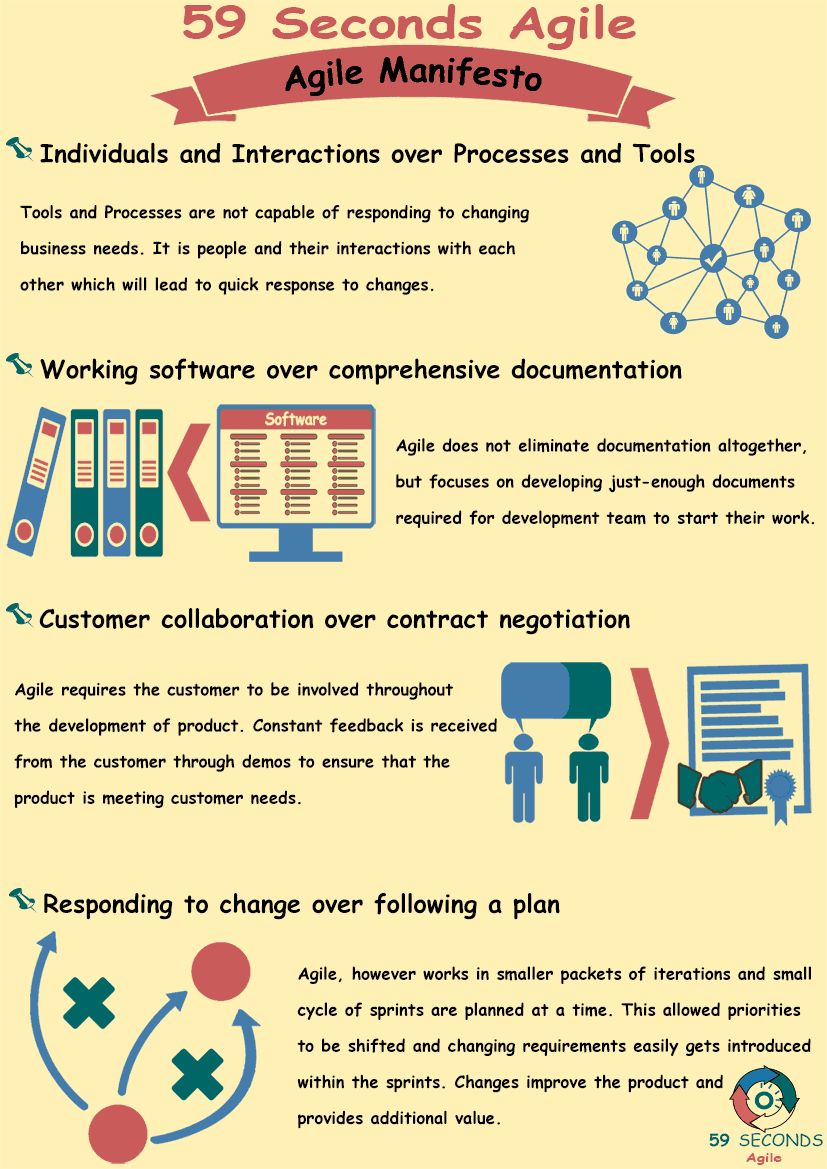 Our Favourite Agile Books
We found these books great for finding out more information on Agile Scrum: