The Agile Daily Stand-Up
A 59 Seconds Agile Training Video
This is an 'Agile Daily Stand-Up' training video.
Continue to Part 6
The Agile Daily Stand-Up
A 59 Seconds Agile Article
This article provides an 'Introduction to The Agile Daily Stand-Up' and looks to discuss what the Daily Stand-Up is, the format of the meeting and the benefits of the Daily Scrum.
Kanban Board
There are some common mistakes that can occur during the daily scrum meeting. The daily scrum isn't a place for micromanaging; the scrum master's job isn't to try to hold each person accountable for what they said they were working on previously. The daily scrum also isn't a planning meeting.
The scrum master or product owner might be tempted to introduce new requirements during the daily scrum, but that should be done at the Sprint Planning meeting. While the scrum master facilitates this meeting, the meeting is not for their sake. The development team can use the daily scrum meetings as an opportunity to align themselves.
The daily scrum should also take place close to the work location and ideally near the scrum or Kanban board so that the team has a visual to reference during the meeting. Keeping these guidelines in mind can make your meetings as valuable to your team as possible. Holding a daily scrum meeting is a quick method that doesn't require a lot of time, but it keeps the entire team abreast of what's happening in the project, and gives them the opportunity to ask for support.
Remember, creating an atmosphere of efficiency accelerates the delivery of value.
User Stories Applied
A 59 Seconds Agile Book Review
User Stories Applied by Mike Cohn is one of our favourite books on Agile User Stories. The book starts with an overview into user stories, and details what a user story is and the different aspects of them. He then discusses how to go about writing a user story, and provides details of the INVEST criteria that can be used to determine if the story is meeting all of its objectives. Next Mike gives an in depth discussion of who user stories are written for and where to begin when gathering the details for them. The book then discusses acceptance testing user stories, including how to go about specifying these criteria and the responsibilities of the development team and customers during this process.
The Agile Daily Stand-Up
Meeting
A 59 Seconds Agile Video Animation
The Daily Stand-Up Meeting
A 59 Seconds Agile Infographic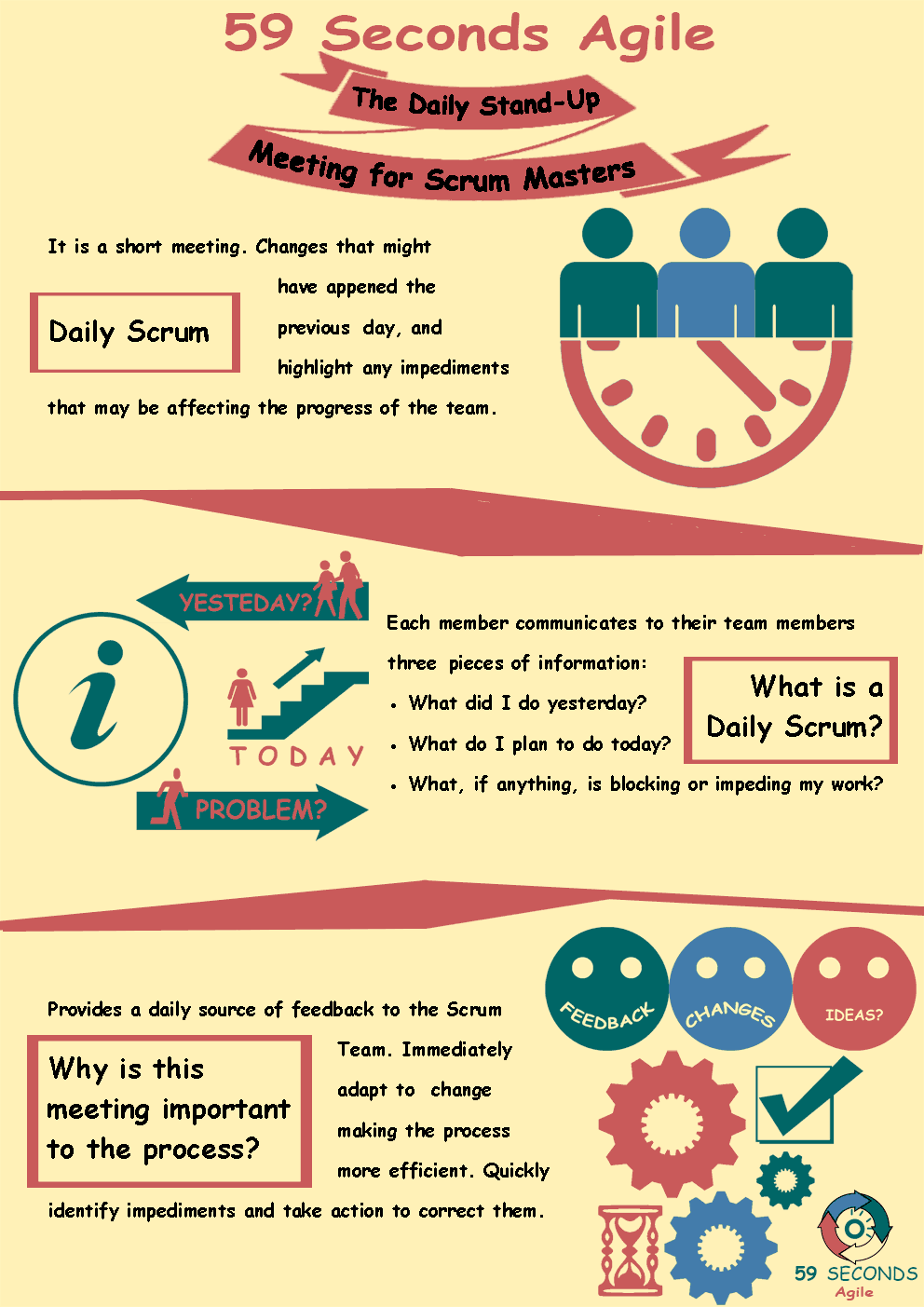 Our Favourite Agile Books
We found these books great for finding out more information on Agile Scrum: