Writing Agile User Stories
A 59 Seconds Agile Training Video
This is a 'Writing Agile User Stories' training video.
Continue to Part 2 Below
Writing Agile User Stories
A 59 Seconds Agile Article
This article provides an 'Introduction to Writing Agile User Stories' and looks to discuss what a User Story is, the benefits of User Stories and how to write an Agile User Story.
Writing Agile User Stories
Have you ever had the experience of sending what you believe is a top-notch account of the Business Requirements to your customer; usually painstakingly written with the intention of obtaining their approval, only for them to come back confused about various statements and concerned that you are not indeed on the same page?
Maybe you have and maybe you haven't but, this type of situation is common and can end up appending unnecessary time revisiting conversations that have already taken place, adjusting plans and schedules, getting into stalled negotiations and just generally delaying moving on to the next steps of the project. The agile framework aims to avoid such a scenario and recommends instead that a product backlog be assembled by marshalling, accumulating and managing User Stories.
What makes a good user story?
User story or stories are short, simple descriptions of a feature told from the perspective of the person who desires the new capability, usually a user or customer of the system.
User stories are part of an agile approach that helps shift the focus from writing about requirements to having a conversation about them. All agile user stories include a written sentence or two and, more importantly, a series of conversations about the desired functionality.
Creating Agile User Stories
A 59 Seconds Agile Video Animation
User Stories Applied
A 59 Seconds Agile Book Review
User Stories Applied by Mike Cohn is one of our favourite books on Agile User Stories. The book starts with an overview into user stories, and details what a user story is and the different aspects of them. He then discusses how to go about writing a user story, and provides details of the INVEST criteria that can be used to determine if the story is meeting all of its objectives. Next Mike gives an in depth discussion of who user stories are written for and where to begin when gathering the details for them. The book then discusses acceptance testing user stories, including how to go about specifying these criteria and the responsibilities of the development team and customers during this process.
Writing Agile User Stories
A 59 Seconds Agile Infographic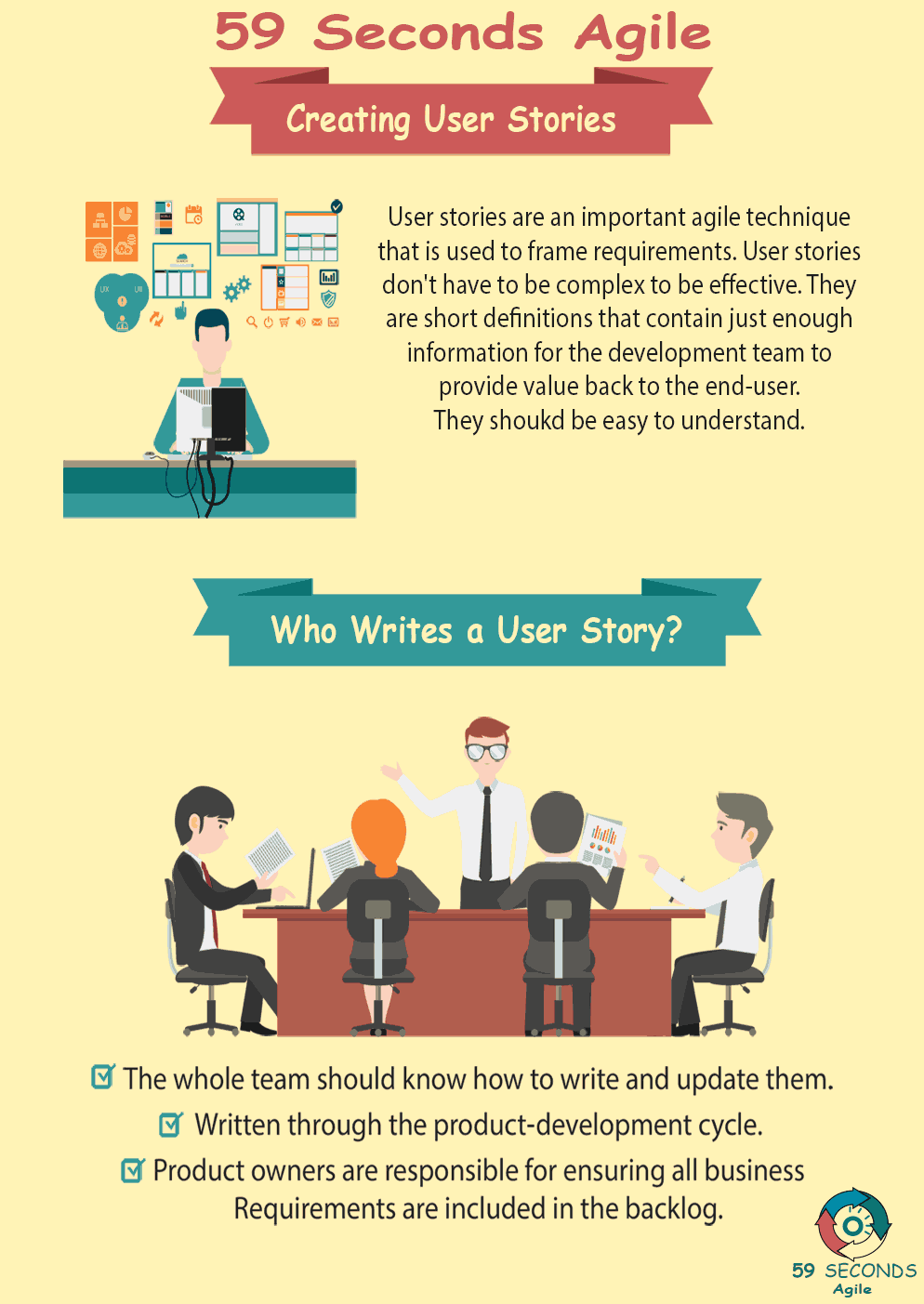 Our Favourite Agile Books
We found these books great for finding out more information on Agile Scrum: