Writing Agile User Stories
A 59 Seconds Agile Training Video
This is a 'Writing Agile User Stories' training video.
Continue to Part 5 Below
Writing Agile User Stories
A 59 Seconds Agile Article
This article provides an 'Introduction to Writing Agile User Stories' and looks to discuss what a User Story is, the benefits of User Stories and how to write an Agile User Story.
Agile User Stories – The Why
As mentioned, user stories are simple statements about features that outside stakeholders want in a product. And by 'simple statements' we're talking about short sentences that can fit on an index card that explain an action a user will need to take.
The reason for this approach is that it removes the barrier of having to figure out all the intricate scenarios around how something is going to be built and keeps the focus on what needs to be built. It also gets developers out of the requirements planning game and allows them to focus on the development tasks at hand instead.
A successful user story will be independent of any other, scope-able, and testable. Each one becomes its own index card that is tracked throughout the development process from start to finish.
Creating Agile User Stories
A 59 Seconds Agile Video Animation
User Stories Applied
A 59 Seconds Agile Book Review
User Stories Applied by Mike Cohn is one of our favourite books on Agile User Stories. The book starts with an overview into user stories, and details what a user story is and the different aspects of them. He then discusses how to go about writing a user story, and provides details of the INVEST criteria that can be used to determine if the story is meeting all of its objectives. Next Mike gives an in depth discussion of who user stories are written for and where to begin when gathering the details for them. The book then discusses acceptance testing user stories, including how to go about specifying these criteria and the responsibilities of the development team and customers during this process.
Writing Agile User Stories
A 59 Seconds Agile Infographic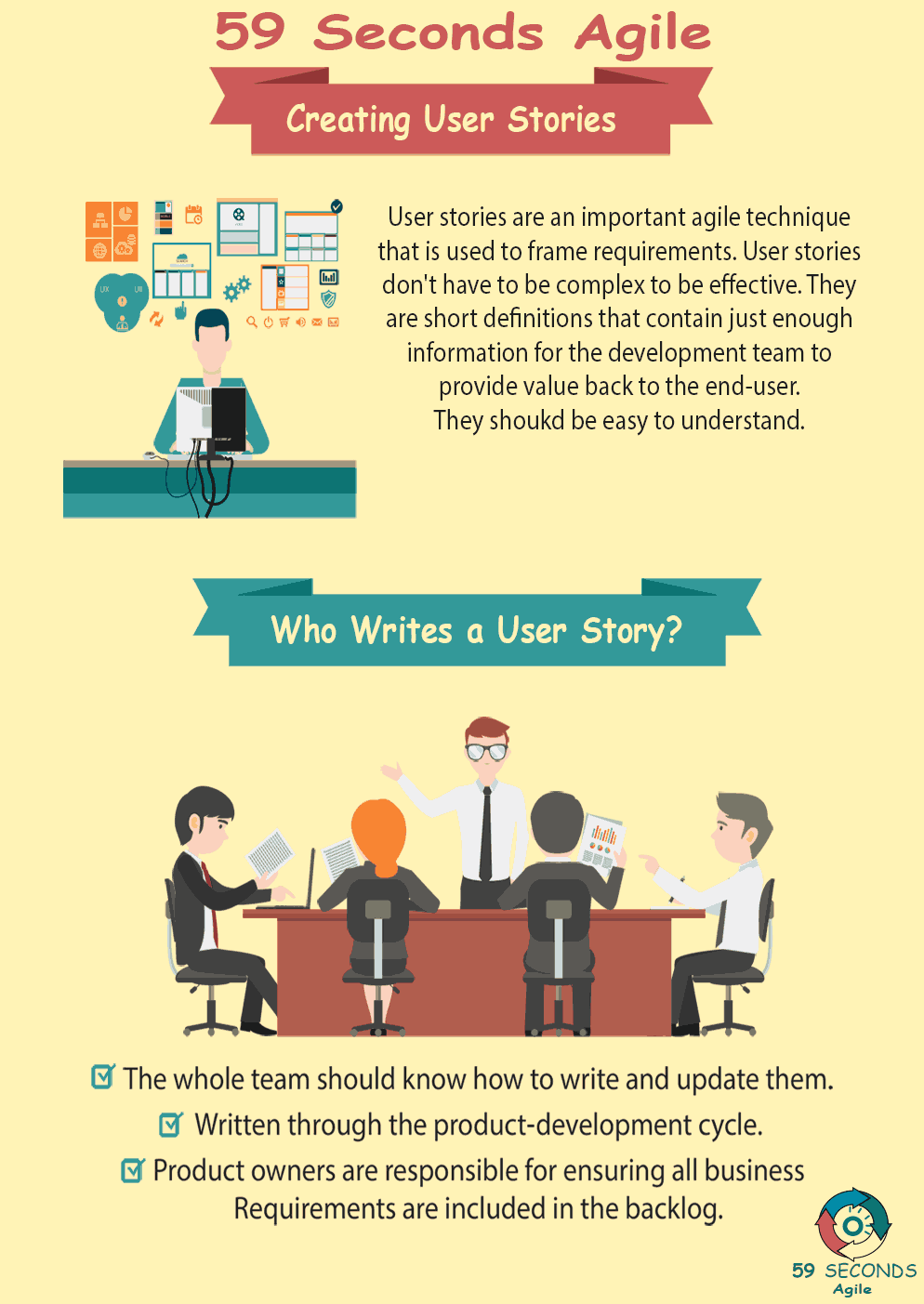 Our Favourite Agile Books
We found these books great for finding out more information on Agile Scrum: